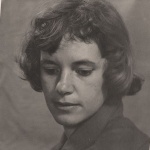 Visit the small exhibition featuring the exceptional collection
Ingrid Jonker (1933-1965) became world famous in 1994, when Nelson Mandela read a poem of her during the first session of his country's first elected democratic parliament. 'Die kind (which was shot to death by soldate by Nyanga)' is a razor-sharp protest against apartheid, which few white South Africans questioned at the time. Jonker had died almost thirty years earlier: after suffering from depression, she ended her life in 1965 at the age of 31.
Her international reputation has only grown since her death. Her work has been translated into several languages, including Dutch by Gerrit Komrij. It is also thanks to him that Jonker's legacy has been preserved. When Komrij was working on his anthology The African Poetry in 1000 and some poems in 2000, he discovered that her literary legacy was in danger of disappearing. He bought everything he could find and shipped the collection to Portugal, where he lived. Komrij's relatives have now decided that for now the Museum of Literature is the best place to preserve the collection, including for research.
This unique collection not only gives a picture of her life, but also of Jonker's place in South African literature of that period, thanks to correspondence with writers such as André Brink, Jack Cope and Laurens van der Post.